Blog Post
Common Threads presents Common Bytes: Innovative Online Nutrition Education
Oct. 19, 2016
In a country where one in three children is obese or overweight, schools and community organizations are taking more direct action to intervene in the fight against childhood obesity by integrating nutrition education into their classes and programs. Since 2003, Common Threads, a national nonprofit and Slow Food USA Slow Gardens Program partner, has been on the front lines by providing hands-on cooking and nutrition education programs to children, families and teachers in underserved communities in eight major cities.
As part of National School Lunch Week beginning on Oct. 16, Common Threads will make its curriculum available nationwide through an innovative online learning tool called Common Bytes.
Common Bytes is a new website that equips families and educators across the country to bring nutrition education into existing learning environments for preK-8th grade students. Common Bytes presents a fun, easy way for children to learn about nutrition and healthy behavior by exploring healthy recipes for making their dinners both nutritious and delicious through interactive game and resources.
Common Bytes is a plug and play solution to meet local wellness policy requirements around nutrition education in a way that incorporates blended learning and supports core content learning. The blended-learning platform features interactive recipes and online games that are suitable for both independent student work and group learning. It allows teachers to monitor student activity and progress within the journeys, as well as access professional development, nutrition and cooking lessons aligned to the Common Core, Next Generation Science Standards, STEM, and National Health Education Standards.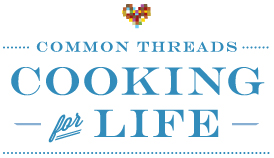 Common Threads' broadest reaching program is Small Bites, which provides professional development, curriculum and funding to elementary classroom teachers so they can offer nutrition education in the classroom to their students. This program trains over 1,500 teachers annually, providing 37,500 students with nutrition education that is aligned with Common Core State Standards, Next Generation Science Standards, and National Health Education Standards. The program is designed to teach children about the benefits of a healthy diet, give them opportunities for active, experiential learning, and provide a snack in which students taste new foods. Another benefit of Small Bites is that it allows schools with existing gardens, like the ones supported by Slow Food USA's Slow Gardens Program to provide additional hands-on garden-based lessons to students about planting, maintaining and harvesting a garden.
Recent survey data from a University of Chicago study shows that participation in Small Bites increased students nutrition knowledge, increased their liking of vegetables, increased their communication with their families about healthy eating and increased their participation in meal preparation [1]. Common Threads programs reach more than 70,000 individuals annually, giving kids the tools to make smart decisions about what they eat while making cooking fun for the whole family. To learn more or bring Common Bytes to your site, contact info@commonthreads.org, see www.commonthreads.org, or join us for our October Slow Gardens webinar:
October 2016 Slow Gardens Webinar - Common Threads presents Common Bytes
As always, this webinar will be recorded and archived. It is free and open to the public, so please share widely!
[1] Jarpe-Ratner, Elizabeth, MPH, Stephanie Folkens, BA, Sonika Sharma, MS, Deborah Daro, PhD, and Neile Edens, PhD. "An Experiential Cooking and Nutrition Education Program Increases Cooking Self-Efficacy and Vegetable Consumption in Children in Grades 3–8." Journal of Nutrition Education and Behavior (2016). Web
back
comments powered by Disqus
top